To maintain the highest quality and purity for the trading pool, we have compiled a list of rules for making good seeds. Please read this list carefully before seeding here as our rules are likely the most stringent you'll find on any music sharing tracker. Each of these regulations are absolutely mandatory, and seeds that do not comply will be deleted from the tracker. Some rules will seem overbearing to some users, but these regulations are in place to ensure that we only spread recordings in "as good as it gets" quality so that all traders have equal opportunity to obtain the same music. If you have a question as to why a certain rule exists or are unsure if your seed complies, please feel free to contact The Video Mods or post in Technobabble. If you have questions regarding this FAQ and wish to discuss them in a language other than english, please post in our multilingual forum, Babylon.
1. All seeds must be authored DVD-Video file structures.
In keeping with our dedication to helping keep seeds in the highest possible quality given current technology, we have decided to limit all video seeds to DVD-Video only. To make the files easily burnable on all systems, your seed must not employ DVD-Image files such as .iso, bin/cue, etc. Also, do not compress the authored video files to .zip, .rar, or other similar archive formats as it will not make the filesize any smaller but will cause unnecessary confusion.
2. No official or out-of-print material is permitted.
To keep our site legal, we do not permit any official or out-of-print material to be seeded here. If your seed contains a television broadcast, check with the TV station's website to make sure that the item is not available for direct sale before seeding. Oftentimes there is a message at the conclusion of a broadcast stating that you may buy a copy of the program you just watched. If this is the case, the material is not allowed for seeding at The Traders' Den. Also note that unofficial video that has been overdubbed with official audio releases is not permitted. Though they were never sold, promos containing official audio are not allowed here.
3. All seeds must have a properly named DVD file structure, including an appropriately named main folder and a VIDEO_TS subfolder.
The correct file structure for a DVD seed is to have a main "parent" folder which will be named appropriately to indicate the respective seed. Inside this parent folder will be the VIDEO_TS folder (must be in ALL CAPS), authored so that it can be directly burned to a DVD-Video disc with any DVD burning suite. Also within this 'parent' folder, you must include the md5 and text file. You can also include artwork or any other files you wish to distribute with the seed. These additional files MUST NOT be placed inside the VIDEO_TS folder. Please see the screen capture below for a properly layed out DVD seed file structure.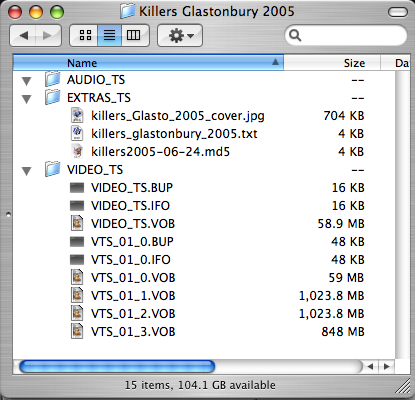 4. All seeds must contain a correct md5 checksum of the contents of the VIDEO_TS folder.
We are making an effort to not only increase the overall quality of the trade pool, but also to help create a system by which sources can be tracked and certain versions verified. For this reason, we will archive the .md5 checksum results of just the VIDEO_TS folder so that a future trader can confirm they have the exact version, with errors, that was originally seeded. This is not for verifying a complete download as BitTorrent will inherently perform md5 checking before reporting 100% completion (though it can be used as a double-check) but rather to provide verification options to future traders of material torrented here.
Until we get something written in this FAQ, here is a short method written by feralicious:

Grab md5summer from
www.md5summer.org
Just open it up, navigate to the folder of your DVD and click on "create sums"
Choose "select all" and then "add" and then "ok"
Wait a while for it to do its thing
When it's finished it will open up the "save" window, just make sure you save it with the .md5 extension and your good to go!
One thing I usually do when I remember is go in and edit it by right clicking on the md5 and selecting "edit" and take out the md5summer references because if you use a program other than md5summer to verify that text shows up as an error and I find that annoying.
Good applications to use to create checksums include Trader's Little Helper (PC), www.md5summer.org (PC), and xACT (Mac). Please do NOT use Easy MD5 Creator as it creates non-standard md5 checksums. Other applications you may use are listed in the Freeware Software Links. Look Inside If You're Stuck! FAQ.
5. All torrents must consist of a complete set, no partials will be permitted.
To eliminate confusion, all torrents uploaded must be as a complete set. This includes multi-DVD sets. This is to avoid confusion and to help people not have to check back repeatedly to find the rest of a DVD set. If you are issuing a reauthor or a DVD with new menus added, you must seed the complete set so that anyone can hop on and download it without having to search through back (possibly inactive) torrents to find the remainder of the material. If your post is not a complete seed, it will be removed and you will be asked to seed a complete set.
If you are concerned that your torrent is large and will take a long time to be shared amongst the community, consider this option. Make a few copies of your show you would like to seed, mail them to several other people (approximately $1-2 per copy), and have them help co-seed the show with you. This not only allows you to get your show out to others more quickly, but it also saves bandwidth, especially if your ISP tightly regulates how much upload you are allowed per month.
6. All seeds must contain a complete and accurate lineage.
This is extremely important. Any seed without complete lineage included will be deleted from our tracker. Any seed with inaccurate lineage will be deleted from our tracker. If you are ripping video from a VHS tape please ensure that it is a low analog generation source and include all information as to how the video was transferred including your hardware and software configuration. We prefer to have fully authored DVDs with logical chapter breaks when appropriate.
Also, ANY TV Broadcast or AUD recorded video from 2005 on MUST have COMPLETE & ACCURATE lineage!! There is NO EXCUSE for a show recorded in the last couple years to NOT have this.
What is the complete and accurate lineage?
Format the show was recorded with and onto?
Transfer from Source to Hard Drive and What format?
Program/Software used to do the transfer and author?
All equipment, cables, cards, etc involved in the process to achieve the above.

We would honestly not like any shows on here that do not have complete & accurate lineage, however we understand its not likely to track down the taper/transfer/author for a show from 10-20 yrs ago (this is why there are examples of lineage listed above).
If you got a show from this point on in a trade, please do some research on it to get all the information available on it before seeding.
You either know the information or you don't (ie, you did the transfer/authoring work from the VHS or you didnt). If you don't know the information because you received a dvd via trade or downloaded it from another site where the capture/transfer info was not provided, then the lineage would read something like one of these:
- For a SA (StandAlone) DVD (does not have correct chapter marks, usually 5 min chapters):
• Video: Tv > (Master, 1st Gen, Low, Med, High Gen)* VHS > SA > DVD
• Video: AUD (Tripod or Hand Held)* > (Master, 1st Gen, Low, Med, or High Gen)* VHS > SA > DVD
- An authored DVD (At least has correct chapter points, but may have menu's):
• Video: Tv > (Master, 1st Gen, Low, Med, High Gen)* VHS > ? Transfer > ? Author > DVD
• Video: AUD (Tripod or Hand Held)* > (Master, 1st Gen, Low, Med, or High Gen)* VHS > ? Transfer > ? Author > DVD
*Pick one
Look at what you have. Picture quality wise, what does it look like (master, 1-2 Gen, High Gen VHS)? Is it authored or a SA (Standalone)? If you can't tell the difference in quality from a Master & other Gens of tapes, I'm truly sorry. Generation's of the copies of the actual dvd are misleading BS, period.
Some examples of correct lineage:
Example 1:

Video: AUD (Tripod) Master
Master: JVC Single Tube Camera, Nak 300 Shotguns > 0 Decks > Panasonic AG-7400 > S-VHS Master
Transfer: S-VHS Master > Panasonic AG-7150 > Canopus ADVC-100 > iMac G4 > Final Cut Pro 3 > DVD Studio Pro 1
NTSC 4:3
D1 & D3 8400 kbs, D2 7400 kbs
720X480 29.97 fps

Audio: SBD > DAT > CDR
LPCM
1.5 Mbs
Example 2:

Video Source: TV > Master broadcast VHS > Sony SLV-D300P > AVT-8710 TBC > Sony RDR-GX 300 > Vegas 6.0d > TMPGEnc MPEG Editor 1.0.1.59 > DVD Architect 3.0c (720 x 480 29.97 fps NTSC 5836 Kbps VBR, Peak = 9016 Kbps).
Audio Source: SBD > Cassette Master (Maxell MX90) > Sony TC-WE475 > Sony R500 (Pass Through) > SEK'D Prodif Plus > Samplitude Professional v8.01 > FLAC > WAV > DAW(Bertha) > FLAC > WAV > Adobe Audition > Vegas 6.0b (Dolby AC-3 Stereo 448 Kbps 48Khz)
Example 3:

Video: AUD (Tripod) > Master > Firewire > Vegas 7.0 > Architect 4.0 > DVD PAL, 720 x 576 5 MB/sec variable
Audio: SBD
LPCM
Example of Incorrect Lineage:

Generation: TV>VHS(1)>MINI-DV(1)>DVDR(3) ->HDD -> DVDR(4) when burned
Lineage for Silver DVDs:
Silver DVDs are allowed if they meet the following considerations. If a known lineage source already exists on the tracker, Silver DVDs may NOT be seeded. Remasters of Silver DVDs must include source information for adjustments and be an improvement from ac3 to LPCM. Improvements within audio codec will NOT be allowed without previous approval based on undeniable proof.
Proper lineage would look something like:

Audience shot > ? > Silver DVD
TV Broadcast > ? > Silver DVD
or the following Silver DVD with remastering.

Audience shot > ? > Silver DVD
This audience shot video is the same as the already released DVD by *insert username*, *TTD Link*, with improved (LPCM, approved AC3) audio. I have attached samples below.
new audio source - AKG 481 > SD 744 @ 24/48
7. All seeds must include the video system (NTSC or PAL), audio codec and bitrate information in the info file.
NTSC and PAL designation is important, and must be included. Additionally, we require the audio and video codec information. Audio is usually .ac3 (Dolby Digital) mp1, mp2, mp3, or PCM. Ideally, 1hr 5 min worth of footage on a single layer to have room for LPCM audio. Maximum StandAlone transfer would be 2 hours on a single layer. We request that, along with designating the video system, you include the following statistics:
Video bitrate
Audio codec
Audio bitrate
Frame rate
Disc Time in 00:00:00 [(hrs, min, sec) Individual times must be included for compilations]
See our FAQ, How to get Video Stats for your DVD for help in obtaining this information.
To see what this information tells us, please read "How can I use the Lineage provided with DVDs to my advantage?"
8. Digital cable and satellite broadcast rips are permitted so long as a complete listing of the software and hardware used to make the rip is listed. No video webcasts are allowed.
Webcast videos captured to DVDs are not permitted at this site as the video quality of webcasts is currently not up to a reasonable standard. Digital TV broadcast captures are permitted, as long as the lineage is provided. The optimal way to capture is through a DVB Card in your computer with no standalone in the lineage, however, we will allow standalone DVD recordings because the use of DVB cards (and similar) isn't yet widespread enough amongst video tapers.
9. Only DVDs produced from MPEG-2 may be seeded here.
No DVDs will be allowed to be seeded here which were sourced from lesser quality video (ie. VCD/CVD/SVCD/DivX/xvid/ASF/wmv//mp4/etc converted to DVD). Converting a lesser quality video to DVD does not make the quality of the video any better, and is therefore pointless. It is equivilent to creating a flac fileset from mp3s simply because the flac format came around and is better than all others. We also do not allow video's shot with digital camera's, cell phone's, or any other device that is not made or meant for recording video. None of the above mentioned video codecs are up to par with The Trader's Den Video BT Seeding Guidelines, and therefore, will not be allowed on the tracker.
10. No Transcoded or Re-Encoded DVDs are allowed.
We do not allow any DVDs to be seeded that have been recompressed in any way. This includes any DVD9>DVD5 or PAL>NTSC or NTSC>PAL, MPEG-2 > remaster > MPEG-2. Please seed the DVDs in the original released form. The only exception here is if you received a DVD with no menus or chapters, then feel free to add a menu and chapter points (this MUST be done without RE-encoding the video), but please give credit to the original author, if known. Once you download the show, you may do what you want to it, but please only share the DVDs in their original released form.
We normally do NOT allow any sort of re-encoded video, however it has come to our attention that there are a very few number of shows that originated in PAL being rebroadcast in NTSC. We have decided to allow these ONLY if the following information is provided when the torrent is uploaded and plainly clear in the first post of the torrent thread (this is in addition to all other required information): rebroadcast date, rebroadcast country, rebroadcast channel. If this additional information is not clearly stated in the thread, the show will be pulled. NOTE: Due to a poor quality encode on the fly done by ConcertTV, we will not allow NTSC Rockpalast or any other broadcasts originating in PAL countries on this channel to be seeded.

modified 2008-05-15, modified rule 10 to say broadcasts captured from ConcertTV that originated in PAL countries are allowed. modified 2008-03-28, modified rule 6 to note about complete lineage being required for shows dated 2005 forward.
modified 2008-03-01, modified rule 9 to add bit about not allowing video from digital cameras, cell phones, etc.
modified 2008-02-16, modified rule 2 to explain our stand on promos and rule 10 to add in rule regarding rebroadcast PAL shows.